ANONYMOUSLY YOURS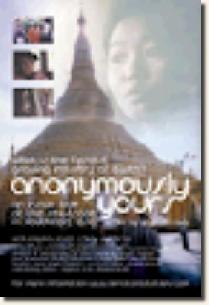 Content:

Length: 90 minutes

Released: 2002

Format: Beta, 35mm, DVD

Worldwide Distribution:

M&L Banks, 330 5th Ave, Suite 304, NY, NY 10001; 212-563-5944

Educational Distribution: Berkeley Media
Anonymously Yours
"Anonymously Yours" is the outcome of a daring filmmaking operation on sex-trafficking in a military state where nothing is as it seems.
Four Burmese women's strikingly different life experiences come together to reveal an institution that enslaves them and as many as forty–million women worldwide in the fastest growing industry on earth: human sales. Clandestinely shot deep in the uncharted world of Southeast Asian sex trafficking, the film chronicles the merchandising of women commonplace in a land afflicted with staggering poverty and widespread corruption.Deep in the uncharted world of sex trafficking in Southeast Asia, four women's strikingly different stories are pieced together to reveal an institution that enslaves as many as forty million women worldwide. From the backrooms of teashops and restaurants, to five star hotels, the Far East sex trade thrives on the routine merchandising of women for the sexual escape and pleasure of men from all cultures. Through their shocking, video-taped testimonies, Burmese prostitutes initiate Western audiences to the widespread corruption and staggering poverty that are the status quo in much of the world, and the primary causes behind the fastest-growing industry on earth.

Sex for money means big business in the impoverished countries of Asia. In Thailand alone, tourism

and the sex industry compose 10% ($27 billion) of the GDP. Filmed in Myanmar (formerly Burma), "Anonymously Yours" exposes a ubiquitous barter of children and women, which supplies a demand so great that the hunt for girls to stock brothels often spills into neighboring countries. Such transactions are commonplace in the region, which is seeped in oppression and unemployment. Here, brothels provide jobs, revenue and diversion, making them a mainstay in virtually every community.

Each female in "Anonymously" shares her own intensely painful experiences as the commerce in this human trade. The documentary builds upon each individual account without introducing the girls'

families—some of which are directly responsible for selling the women into slavery. The lines between perpetrator and victim are blurred as audiences begin to relate to all players and understand their motives rooted in human need. By the end of the film, one can only hope the outcome will be positive as the reformed prostitutes strive to create new and better lives for themselves and their families. However, when the cameras stop, and the girls' return their appalling realities, it is the audience, made painfully aware of the women's tragic lives, that is changed.
Copyright © 2012 Aerial-Productions, All rights reserved